Anemia Management & Infusion Services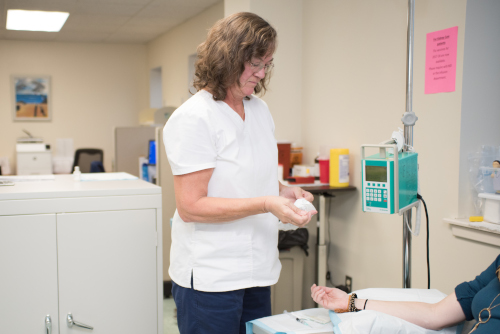 Anemia is a condition in which a patient is deficient in red blood cells that are responsible for carrying oxygen to the body's vital organs. The symptoms of anemia often include worsening fatigue, shortness of breath and more difficulty performing prolonged exercise. There are many different causes of anemia and your doctor will perform testing to help identify the cause. One common cause is chronic kidney disease, a condition that can affect your body's ability to produce – and respond to – a naturally occurring hormone called erythropoietin ("Epo"). Patients suffering from anemia of chronic kidney disease may benefit from the administration of medications known as erythropoietin stimulating agents ("ESAs") which have been shown to help improve patients' quality of life and reduce the need for blood transfusions.
Kidney Care's Infusion Clinic is staffed by two on-site registered nurses trained in the administration of medications and testing procedures in order to assist you with the diagnosis and treatment of numerous conditions to include:
Erythropoietin stimulating agents (ESAs) for the treatment of chronic kidney disease-related anemia
Intravenous (IV) iron (often more effective and better tolerated than oral iron supplements) for the treatment of iron deficiency anemia
Intravenous diuretics for patients experiencing severe exacerbations of fluid overload or congestive heart failure
Intravenous fluids for the patient experiencing severe forms of dehydration
Intravenous medications used for transplant immunosuppression as well as the treatment of certain severe kidney diseases
Influenza, pneumonia and hepatitis B vaccination
Frequent blood pressure monitoring and weight checks for those patients unable to perform testing at home
Laboratory and infusion testing for patients with certain electrolyte and blood pressure disorders
24 hour ambulatory blood pressure testing for complex hypertension
Phyllis Harrison, RN
Anemia & Infusion Director
Once upon a time, a nurse Phyllis was introduced to the ESRD population. After training to be a dialysis nurse, she knew she had found her passion. The learning, teaching and caring were endless and this is where she wanted to build her career. She worked 11 years as an LPN in a dialysis center then pursued her education to RN graduating from Holyoke Community College. After graduation she accepted a charge nurse position in a dialysis unit.
She has a total of 35 years working with renal patients. The past 15 years she has been working with CKD patients in a private nephrology practice assisting in the care of chronic and acute renal patients as the Director of the Infusion Department... the learning, teaching and caring continues.
Phyllis enjoys family, friends and yes the gym!